In this course, you will learn everything you need to know to build and deploy Drupal 8 websites with Composer. We start from the basics and go all the way up through automatically deploying your site to production with CircleCI!
Why Should You Take This Class?
Using a Composer-based workflow to manage your Drupal 8 website is considered the best practice, but many people struggle with Composer's frustrating complexities and arcane logic. After you take this course, though, that's not going to be you. You'll build your Composer-based Drupal sites with confidence, and troubleshoot Composer update errors with ease. In fact, you're going to be a complete Composer bad-ass. People will seek you out at your job or at your local Drupal meetup because you'll be the one person in the room who knows how to fix their Composer problems. It will be glorious!
I know what you're thinking. How am I going to have time to help all these people with their Composer problems? I'm way too busy. But after you take this course, you're going to save yourself a ton of time, because you're going to learn how to deploy your websites automatically with continuous integration instead of logging in and doing it manually. Seriously. In the last video of this course, we type "git push origin master" and BOOM, the website is updated on the production server. And you can get right back to holding court with your adoring fans.
Who is this class for?
Anyone who wants to starting building their Drupal 8 websites with Composer.
People who have a Composer-based Drupal website, but can't figure out why it won't update. ?
Anyone who wants to automate deploying updates to their Drupal 8 website, so they can spend more time with their loved ones. (or doing something else, we don't judge)
This class is designed to be accessible to people who have never worked with Composer before, but it also has a lot of advanced topics that will appeal to those who already know the basics. An understanding of how to use Drupal is helpful, but you don't need to be a wizard at it to follow this course.
How is it taught?
The class will consist of two weekly video lessons, each around 2 hours long, and two weekly live Q&A sessions with the instructor. The lessons will cover the topics listed below and can be watched on-demand, anytime that is convenient for you. We will provide you with a local development environment (based on Vagrant and Virtualbox) and practice hosting account, so you don't need to worry about setting that up ahead of time.
The weekly live sessions will be conducted online, using the Zoom webinar software. During the sessions, the instructor will answer all your questions and will help troubleshoot any issues you have following the course. (Zoom allows us to view your computer, and take control of your keyboard and mouse if needed. So, we can see any error messages that you're seeing and figure out how to fix it right on the spot.) In addition to the live sessions, you will have access to an online forum to discuss with other students and ask the instructor questions during the week.
After the course is over you can continue to access the lesson videos, free of charge, forever. There are no monthly subscription fees. Just come back and watch the lessons whenever you want. They are a great reference when you forget how to do something.
Topics Covered in This Course
The Basics
Everything you need to get a Drupal website up and running with Composer:
Installing Composer
Installing Drupal 8 with Composer
Installing and Uninstalling Modules and Themes with Composer
Updating Drupal Modules and Drupal Core with Composer ← This video is worth the purchase price alone. It will save you from so much frustration with Composer!
Understanding the composer.json File and Version Syntax
Applying Patches with Composer (Spoiler Alert: You can do it directly from the drupal.org issue queue!)
Deploying Your Composer-Based Drupal Site to Production
This is where we take the dev-ops to the next level, including:
Want to see how it works?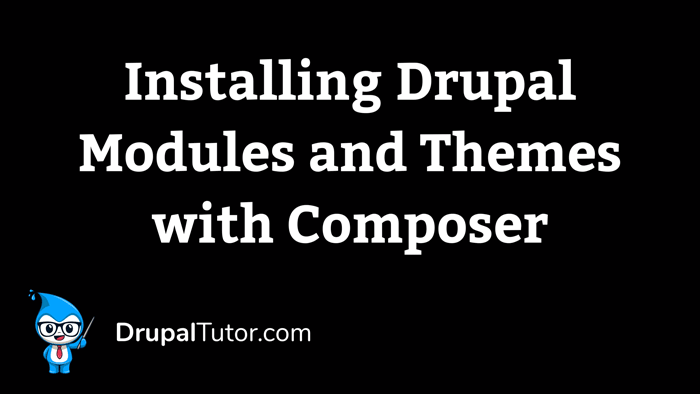 Our Guarantee
Try this course for a week, and if you don't agree that it's the best way to learn Drupal and Composer, we'll refund the full price. No questions asked.
Instructor
Wayne Eaker is the director and chief developer of Zengenuity. He's a Drupal expert with years of experience building highly-customized Drupal websites. He is also a seasoned trainer, having taught professionals, corporate clients and high school computer science students.
Testimonials
Wayne has a great manner about himself in his videos, and the way he presents information is easy to follow along with no matter your technical knowledge. He makes learning about Drupal a breeze! I wish more instructors would follow his approach, his explanations and examples are perfect for first time users as well as those with experience, I recommend his training course very highly to anyone looking to learn about Drupal!
Dessie — University Information Technology Specialist
Wayne is an excellent communicator. Even though he is an expert, he always made sure to include the most basic, background information for beginners. I also really liked having access to the web server and being able to practice the lessons by building our own site. That hands on approach really helped with understanding the material.
Charles — President of Genesee Polymers Corporation
Cost
The cost for this course is $148 per student $74 per student — 2019 End of Year Sale: 50% Off Through December 31 .
This includes:
4 hours of video lessons and 2 weekly live sessions with your instructor.
Permanent access to the recordings of all the lessons and live sessions. Watch them again anytime you need them!
A local development environment and a web hosting account for your practice Drupal site.
Access to an online forum to ask questions of the instructor and discuss with other students.